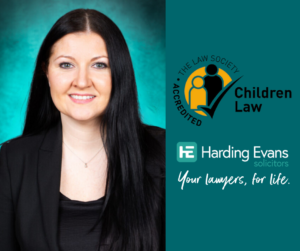 Our Children Law team specialise in matters related to children and are proud to be one of the few firms in Wales to have solicitors who are members of the Law Society's Children Panel, with Emma being the second member of the team to be added.
The Law Society operates accreditation schemes to:
Promote high standards in legal service provision.
Ensure that consumers are easily able to identify legal practitioners with proven competency in given areas of law.
Help consumers to make informed choices.
Offer solicitors and firm use of a recognisable brand.
Provide information for courts, statutory bodies, and other professionals.
Ensure that scheme members maintain relevant standards of competency and expertise, by means of periodic reselection and re-accreditation.
Siobhan Downes, Head of the Children Law team at Harding Evans commented "I am delighted for Emma to have been recognised by the Law Society and added to the Children Law panel. We already have a strong reputation for our Children Law practice, but this recognition of Emma's hard work demonstrates her expertise and the high standard of the representation and advice she offers."
With a new report showing that "radical reform" is needed to end the "frightening trend" of increasing numbers of Welsh children being taken into care, our Children Law team have never been busier.
Our dedicated team of knowledgeable, friendly children's law experts can give you the clear, practical guidance that you need, advising on matters relating to:
Children's services being involved with your children/family.
Child custody issues.
The legal rights of children.
Working out arrangements for children following the breakdown of a family.
Child protection/what to do if you think a child is at risk.
Adopting a child.
Your right to see your children.
If you need advice and support, our specialist team is here to help. Contact us today.