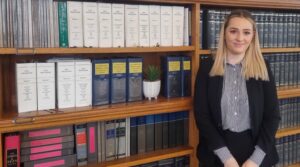 Annie Russell currently works at Sort Legal but is on her secondment with us here at Harding Evans until June to gain some valuable litigation experience before qualifying as a Solicitor later this year!
A secondment takes place when an employee is temporarily assigned to work elsewhere – for another organisation or a different part of their employer for reasons such as career development.
Annie obtained her degree and LPC/LLM with Staffordshire University and graduated from her master's and Legal Practice Course in 2021.
Speaking on her hobbies and interests, Abbie added: "I love Formula 1, and as a Yorkshire girl I love a good walk – so living in Wales suits me! I'm also passionate about travelling and have six holidays booked this year!"
Speaking on Annie's secondment, Craig Court, Head of Public Law & Private Litigation added: "I am pleased to welcome Annie to the team on her secondment for the next few months.
"I am looking forward to working with her and assisting with her development and training as a solicitor!"
We hope you enjoy your time at HE Annie!