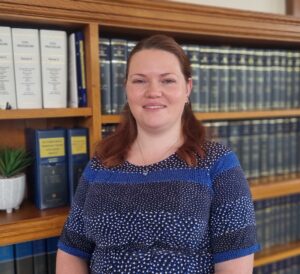 We have another new addition to Team HE, with solicitor Jasmine Smith joining our Wills & Probate department.
Originally from Australia, but now happily settled in Newport with her husband and daughter, Jasmine originally qualified as a Chartered Legal Executive (CILEX), before cross-qualifying as a solicitor in 2021.
Jasmine is no stranger to Harding Evans, having appointed Wyn Williams from our Residential Conveyancing team when she purchased her house in 2016. Having been impressed with the firm from the client side, Jasmine is really happy to be on board and can't wait to get going!
In her spare time, Jasmine is a keen crafter and runs a small business selling the crocheted and knitted characters that she creates.
Laura Selby, Partner and Head of Wills & Probate at Harding Evans said "we're extremely delighted to welcome Jasmine to the Wills and Probate team! Jasmine will assist our growing number of clients wishing to put their own affairs in order and helping them deal with the estates of loved ones they have lost".
Welcome to Team HE, Jasmine, it's great to have you here!