A nurse forced to isolate in a caravan for nine months was able to move home.
'I have cried a river in the caravan, if it wasn't for Gary, I wouldn't have got through it'.
Purchased for just £600 and parked on her driveway, Sarah Link and her husband, Gary, moved into the caravan in March 2020 as a way of protecting Sarah's elderly mother.
Sarah, a nurse at Birmingham's Queen Elizabeth Hospital, initially thought they'd stay on the driveway for a month or so, but 'the summer came and went and nine months later we were still there'.
Although there were tough times, including a period of intense isolation after both Sarah and Gary contracted coronavirus, they also took the experience in their stride, decorating their mobile home throughout the year.
Sarah and Gary were able to move back into their family home as we entered 2021, following the vaccination of Sarah's 84-year-old mother.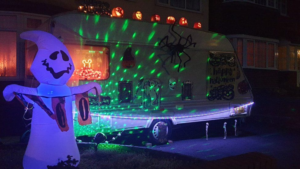 Europe's oldest person survived Covid-19, recovering just days before her 117th birthday.
French nun Lucile Randon, who took the name of Sister Andre in 1944, tested positive for coronavirus at the Sainte-Catherine Labouré home, where 81 of the 88 residents contracted the virus.
Despite her age, Lucile did not suffer from any of the symptoms associated with the virus, with her only complaint the 'solitude' of isolation, with Randon confined to her room and unable to attend mass.
Following a lonely isolation period, Lucile was able to mark her 117th birthday with a small group of residents and a three-course dinner featuring her favourite dessert, Baked Alaska.
Hundreds of businesses reopened their doors.
After what felt like an eternity, pubs, gyms, theme parks, zoos and non-essential shops were able to once again welcome back the general public.
The dates differed as the four nations set out their own schedules for reopening, but for many across the UK, it was a much sunnier Spring, even if the weather didn't always accommodate outdoor dining.
And a quick look at the stats illustrates just how much we missed days out – with the economy exceeding expectations and growing an impressive 1.0% in June alone.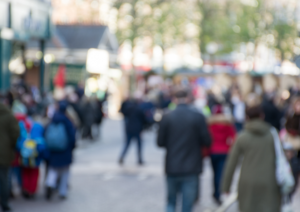 An act of bravery from Marcus Evans.
19-year-old Marcus become a hero within his local community of Baglan (near Neath Port Talbot) after he risked his own life in an attempt to save an elderly woman.
Evans was on his way back from the local shop when he saw a PCSO kicking down the door of a house that was ablaze. Smoke was pouring out of the building, preventing Marcus from entering on his first attempt. However, he could hear coughing, so desperately tried to enter the building once again. On his second attempt, Evans was able to locate the now-unconscious tenant by the back door.
Marcus, who lost his mother just two years earlier to cancer, stated that he was just 'focused on getting her out of the house… I wanted to do what I could do'.
Tennis stars make history.
18-year-old Emma Raducanu would take us all on a sensational sporting journey over the summer.
After a 'whirlwind Wimbledon', in which she retired in the fourth round due to breathing difficulties, Raducanu was back for the US Open – and the teenager would scoop the top prize without dropping a single set.
Raducanu's accolades include being the first British woman to win a Grand Slam singles title since Virginia Wade in 1977. She also toppled Johanna Konta to become the new British No.1 in the WTA Rankings, joining the likes of Sue Barker and Heather Watson.
But the sporting celebrations weren't over yet, as fellow Brit Cameron Norrie came from behind to defeat Nikoloz Basilashvili and lift the Indian Wells title later in the year. His victory means he succeeded Dan Evans as the British number one, in addition to moving up to 15th in the world rankings.
Norrie's coach credits lockdown as the inspiration for his fantastic form, as the pandemic gave Norrie the time to contemplate his career, and run a 10k every day for two months, before returning to action.
Major events returned to stage and screen.
As infection rates continued to decline, a number of larger 'live' events were given the green light, including festival, nightclubs and sporting events – albeit with restrictions on capacity and mass testing enforced.
The highlight for many around the globe, following a 12-month delay, was Tokyo 2020. Swapping stadiums for sofas, thousands got behind the Olympians and Paralympians heading out to Japan.
And the Welsh athletes certainly made their mark, with medals in an array of events including wheelchair rugby, sailing, swimming and dressage. Newport's very own Lauren Price added gold to her impressive haul, which includes Commonwealth, World and European Gold medals.
The phenomenal rollout of the Coronavirus Vaccine programme.
It was the news that so many of us had dreamed of. In December 2020, the UK approved the Pfizer-BioNTech vaccine for use following large clinical trials.
In early 2021, the NHS once again stepped up to the plate – issuing first doses to the elderly, vulnerable and a number of healthcare workers at an incredible pace. Fast forward to mid-March and the average number of first doses administered per day was around 500,000.
By the autumn of 2021, more than 49 million people in the UK had received at least one dose of a coronavirus vaccine, and the focus shifted to a 'booster' campaign to offer a further layer of protection ahead of the winter months.
While debates surrounding their implementation remain rife, there is no denying that the vaccines have given hope to thousands. As a nation we witnessed the heart-warming scenes as individuals – and especially those on the front line or clinically vulnerable – were able to reunite with their loved ones, safely.