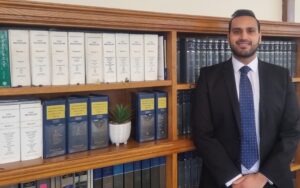 Omar graduated with an LLB in Law from the University of Glamorgan in 2011 and has been working in the legal sector for over ten years. Since qualifying as a lawyer in February 2018, completing his legal training with a firm in Cardiff, Omar has worked on clinical negligence claims arising from misdiagnosis and dental, orthopaedic, and ophthalmic errors, along with cases relating to complications following routine surgeries and birth-related injuries.
Commenting on why he chose to join Harding Evans, Omar said: "Having lived in Newport, I am aware of the reputation the firm has and how committed they are to providing sector leading expertise to their clients. I was previously affiliated with the firm prior to embarking on my legal degree and then again during the completion of my first year at university. I have been very fortunate to have returned to the firm as a qualified professional and look forward to helping clients and their families achieve the best possible outcome."
Ken Thomas, Partner and Head of the Clinical Negligence team, added: We are delighted to have Omar join our well-established Clinical Negligence department.
"He has acted for claimants for several years and his experience will bolster the legal service we can offer for those who have been injured due to negligence in treatment, either in NHS or private care settings."
In his spare time, Omar enjoys socialising with his friends and keeping fit.
Welcome to #TeamHE Omar, it's great to have you onboard!