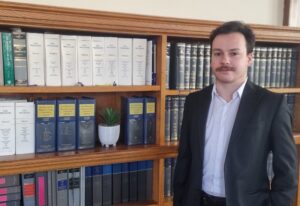 Tim is well travelled, having first studied Scots law in Glasgow, where he graduated in 2018. Tim subsequently went on to do an LLM in the Netherlands and the GDL and BTC in Cardiff and was called to the bar in 2021. Tim joins us from the litigation team at Hugh James.
Asked why he chose to join Harding Evans, Tim said "I was interested in moving into Public Litigation and following a conversation with one of my close friends, who used to work for Harding Evans, he told me about the growing reputation of the team here and recommended that I sent my CV to Craig Court".
Craig Court, the Head of the Public Law & Private Litigation team at Harding Evans, said "I am delighted to welcome Tim to the team. He is a great addition to the firm who I am confident will fit in well and I look forward to working with him to develop his experience in the Public Law field".
Tim is a big rugby fan, who also played all through uni. He also loves hiking, sailing and surfing, but openly admits to "knowing literally nothing about football". Tim is a Scot and whilst he has an English accent most of the time, his friends tell him his Scottish accent comes out after a pint!
Welcome to the team, Tim!