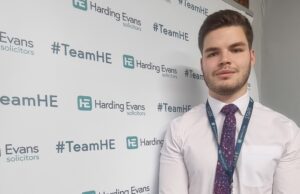 We'd like to introduce you to Morgan, our new Paralegal in our Public Law and Private Litigation team!
Morgan is from Tredegar and recently graduated in Law from Cardiff University. He's really interested in the UK Covid-19 Inquiry and when he saw an opportunity to join the team that are representing the Covid-19 Bereaved Families – Cymru group, he jumped at the chance.
This is Morgan's first full time job and he is settling in nicely. Commenting on joining the team, Morgan said "everyone has been so friendly and welcoming. I'm starting to get my ahead around the systems that are in place, but everybody is so helpful, I'm sure I'll have the hang of it in no time!"
Craig Court, Head of the Public Law and Private Litigation team added "Morgan is incredibly enthusiastic and it's great for us to be able to offer him his first professional position as a paralegal. I'm confident he is going to grow to be a pivotal member of the team".
Outside of work, Morgan loves all things sports; whether it's going to the gym, playing rugby, watching football or spending time at the Millennium Stadium cheering on the Welsh rugby team in the six nations.
It's great to have you here, Morgan. Welcome to Team HE!